[The holy Roman church] strictly orders all who glory in the name of Christian, not to practise circumcision either before or after baptism, since whether or not they place their hope in it, it cannot possibly be observed without loss of eternal salvation. Council of Florence
It is unsurprising that Midwesterners lead the crowd in damning behavior, but I am rather surprised and horrified that the Northeast is so much higher than the West.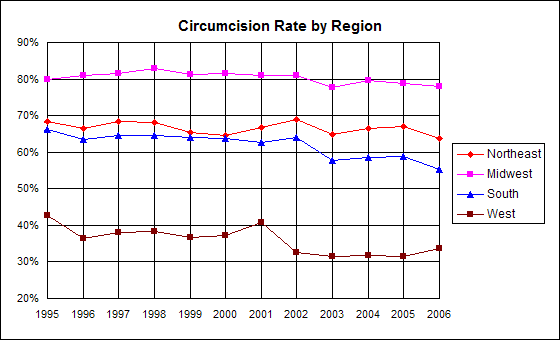 For a more updated (and less anathamistic) Catholic take on circumcision see "The Morality of Circumcision." All joking about losing salvation aside, I do not understand why anyone would choose elective surgery for their infant unless it were ordered by their religion. And that is obviously not the case for Catholics.
Why don't Catholic hospitals have rules designed to reduce elective infant circumcision?